333376
Summer of Soul (...Or, When the Revolution Could Not Be Televised)
Synopsis
In 1969, during the same summer as Woodstock, a different music festival took place 100 miles away. More than 300,000 people attended the summer concert series known as the Harlem Cultural Festival. It was filmed, but after that summer, the footage sat in a basement for 50 years. It has never been seen. Until now.
Film Credits
Director:
Questlove
Ahmir-Khalib Thompson
Starring:
Mavis Staples
Lin-Manuel Miranda
Jesse Jackson
Chris Rock
B.B. King
Nina Simone
Tony Lawrence
Abbey Lincoln
Stevie Wonder
More Information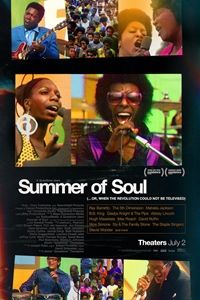 Rating:
12A
12A Certificate
Films classified 12A have been deemed appropriate for viewers of twelve and over. However, they can also be seen by younger children - provided they are accompanied by an adult who has deemed the film appropriate viewing for that child. In such cases, IFCO strongly recommends that parents/guardians make informed decisions by accessing the consumer advice available on this website.
Genres:
Documentary
Musical
Summer of Soul (...Or, When the Revolution Could Not Be Televised)