Synopsis
A woman in her sixties after losing everything in the Great Recession embarks on a journey through the American West, living as a van-dwelling modern-day nomad.
Film Credits
Producer:
Frances McDormand
Peter Spears
Chloé Zhao
Dan Janvey
Mollye Asher
Writer:
Jessica Bruder
Chloé Zhao
Starring:
Frances McDormand
David Strathairn
Charlene Swankie
Linda May
Bob Wells
David Strathair
Swankie
Gay DeForest
Tay Strathairn
More Information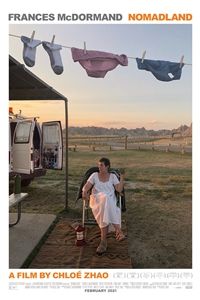 Rating:
12A
Suitable for 12 years and over
Films classified 12A and video works classified 12 contain material that is not generally suitable for children aged under 12. No one younger than 12 may see a 12A film in a cinema unless accompanied by an adult. Adults planning to take a child under 12 to view a 12A film should consider whether the film is suitable for that child. To help them decide, we recommend that they check the Ratings info for that film in advance. No one younger than 12 may rent or buy a 12 rated video work.
Advisory:
suicide references, infrequent moderate bad language