Synopsis
The debut film from writer-director Rose Glass, Saint Maud is a chilling and boldly original vision of faith, madness, and salvation in a fallen world. Maud, a newly devout hospice nurse, becomes obsessed with saving her dying patient's soul - but sinister forces, and her own sinful past, threaten to put an end to her holy calling.
Film Credits
Producer:
Oliver Kassman
Andrea Cornwell
Starring:
Lily Frazer
Lily Knight
Marcus Hutton
Jennifer Ehle
Turlough Convery
Morfydd Clark
More Information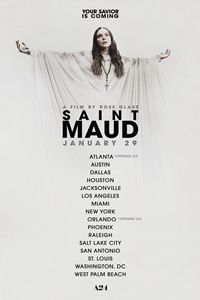 Rating:
15
Suitable only for 15 years and over
No one younger than 15 may see a 15 film in a cinema. No one younger than 15 may rent or buy a 15 rated video work.
Advisory:
strong violence, sex, disturbing images, very strong language
Genres:
Drama
Horror
Suspense/Thriller